February 2022 | Content by Colonel Arturo DI MARTINO, Italian Air Force
Wow! And, What's Next?
This year is the 40th anniversary of the activation of the E-3A Component. Wow! It is amazing to still have the NE-3A as a fully capable weapon system, even though more than four decades have passed since the beginning of this thrilling adventure.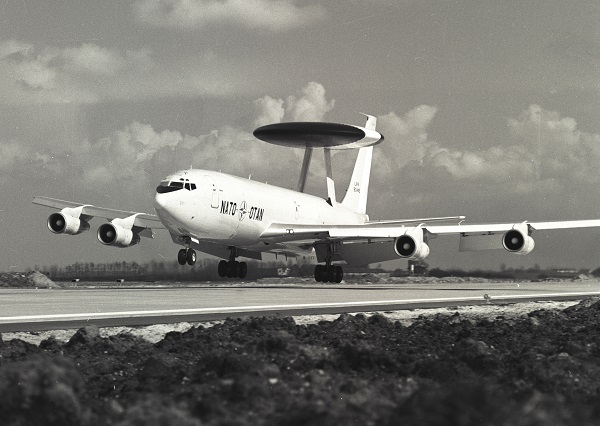 © 2022 - NATO


Looking back and trying to recall the level of technology being applied in the early 80's, many may recall that neither the internet nor cellular phones existed at that time, but even GPS and Link 16 were just unfielded infants. It was a different time.
The key to the fleet remaining relevant and capable all these years has been the several modernisations the NAPMO nations have authorized. That required a LOT of time and money…but it is adapt, or die. Not modernizing the 1980s-equipped jets, would be like trying to operate a 1998 first generation cell phone in 2022 – if even possible, a nightmare!
Modernizing the NE-3A fleet is tough. Doing it right is an even greater challenge: How do we project decades into the future? What will break? How often? What will become obsolete? Yes, to sustain new systems and ensure logistical support through the lifetime is complex…and essential. For this reason, NAPMA has dedicated personnel who manage sustainment planning and related contractual activities. One focus item, for example, is the area of Diminishing Manufacturing Sources (DMS) which limits ability to obtain spare parts or refurbishment. Unfortunately, DMS issues already exist for the just-beginning Final Life Extension Program (FLEP). See, I did mention this was difficult!
NAPMA Logistics works closely with the Force to accomplish sustainment planning. The target is to get the fleet to the established NE-3A retirement date of 2035 (Alliance decision, Warsaw summit, 2016). "What's next?" The official answer is: The Alliance Future Surveillance and Control (AFSC) capability! AFSC is still in its Concept Stage, schedule to conclude 2025. It is still to be seen whether and what capability the effort will produce in time for the NE-3A retirements. Will there be a gap? Will we have to sustain later than 2035? How do we plan for that when 2035 is difficult enough? Some leadership teachings describe this as a VUCA situation: Volatile, Uncertain, Complex and Ambiguous. I offer the best way to deal with VUCA is by VUCA: Vision, Understanding, Courage and Adaptability. It gives us the best chance to best deal with these challenges. It gives us the best chance to deal with "What's Next".