July 2022 | Content by LtCol Stefan Kothe, Chief Logistic Branch NAPMA
The FLEP Logistics Integrated Project Team;
Assisting with Fleet Sustainment well into the future
The Final Lifetime Extension Programme, also referred to as "FLEP", for NATO's E-3A fleet is well underway. Just a few months ago in April, N-1 was flown to the Depot Level Maintenance facility at Leonardo in Tessera, Italy. To date, most of the legacy equipment has been removed from the aircraft to allow for the installation of new and modified replacements. But there is so much more happening behind the scenes that is not immediately obvious.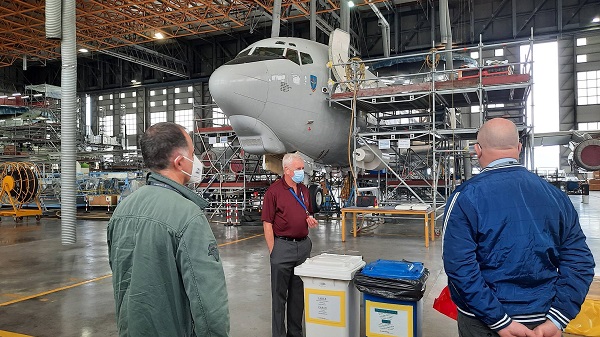 The first aircraft (N-1) has been inducted at Leonardo in Tessera, Italy for FLEP modification. © 2022 - NATO


Almost all FLEP activities are coordinated and managed by Integrated Project Teams, or IPTs, which focus on specific areas of interest, such as hardware, software, ground systems and logistics. These IPTs are comprised of Subject Matter Experts. The various IPTs participate in working groups with participants stemming from various organisations and usually include members from the NAEW&C Force and industry, and may also include representatives from other NATO agencies, such as NCIA or NSPA. The working groups are usually co-chaired by NAPMA and Boeing representatives. This also applies to the Logistics IPT. Headed by a Logistics Branch representative from within NAPMA's Programme Support Division, this IPT by nature focusses on all logistics-related aspects of the FLEP.
The Logistics IPT is responsible for a number of areas: Technical Publications, Training and Spares/Provisioning, together with providing recommendations regarding long-term sustainment.
Technical publications focus on providing the future user (both operators and maintainers) with accurate, concise, complete and quality assured, updated documentation utilising the S1000D standard, which is already employed by the Interactive Electronic Technical Documentation. The initial documentation review milestone has been successfully completed. However, there are more reviews and challenges ahead to make sure that Technical Publications are updated. As the Boeing engineers finalise their documents and drawings, amendments need to be provided to the Boeing Technical Publication writers for incorporation in future technical documentation releases. This review process will continue throughout FLEP ensuring that required changes due to, for example, Installation and Checkout or Testing are included. As one can imagine, Technical Publication updates/activities are dependent on other activities and inputs, and thus can be on a programme's critical path.
The Logistics IPT also provides training for operators and maintenance personnel covering operations and sustainment. As the prime contractor, Boeing provides Initial Cadre Training (ICT) for the new features and functionalities associated with FLEP rollout. Furthermore, other user groups have additional training requirements. Members of the Combined Test Team (CTT), who will be responsible for testing, operations and maintenance of N-1, the first aircraft to be modified, require familiarisation training in order to complete test activities during the engineering, manufacturing and development phase of FLEP. One of the main challenges is to synchronise the various training events with respective need dates for specific user groups e.g. MSEC, mission crews or maintenance crews. Of course, the training material and content are dependent on the availability of updated technical publications.
The procurement of spare parts is the third main area of responsibility of Logistics. Ensuring there are sufficient spares on hand is critical for the operational sustainability of the aircraft. To meet this challenge, specialist analyses is carried out to determine the precise number of spares required. This is carefully balanced against significant procurement costs, ensuring the aircraft remains operational until 2035.
Finally, FLEP includes the development of a document aimed at assisting the Force with the sustainment of the aircraft due to FLEP. This document, the Lifecycle Management (LCM) Concept document forms another critical pillar within the area of responsibility of the Logistics IPT. Researching and developing the LCM approach already at the initial stages of a major upgrade programme is a first for a NAPMA-led programme and is important to ensure that sustainment aspects are considered early on. The LCM Concept document provides those organisations responsible for fleet sustainment until its sunset date (currently anticipated to be in 2035) with sufficient information to begin their work to tackle upcoming logistical challenges. The LCM document is meant to assist in providing a seamless transition from programme completion to sustainment. It is hoped and expected that this document will be a valuable tool to assist the Force, aided by NSPA, IAMCO and partners from industry, throughout the operations and sustainment phase.
Whereas the Technical Publications, Training and Spares procurement activities will assist to pave the way to enter operations with FLEP-modified aircraft, the LCM Concept document will assist NATO's E-3A Force to tackle the increasing future sustainment challenges well into the next decade.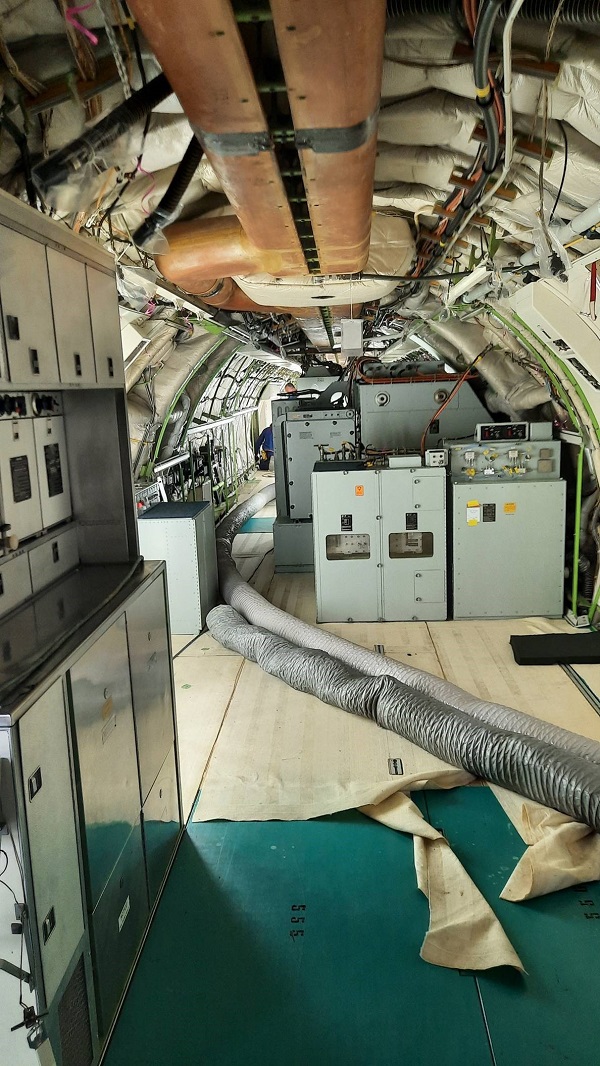 Much of the equipment has been removed and the aircraft interior prepared for the modification. © 2022 - NATO