April 2022 | Content by Stephane Rosse, former NAPMO Executive Secretary
NATO Recognition as Airworthiness Authorities
The 106th meeting of the NATO Airborne Management Organisation (NAPMO) Board of Directors (BOD) was conducted virtually from 7-8 December 2021 due to the ongoing COVID-19 Pandemic. Despite the challenges of holding such a high level meeting in a virtual format, all 17 NAPMO Nations were represented along with the NAEW&C Force, NAPMA and several other supporting organisations. The NAPMO BOD Chair, Ms Amy Cagli, was successful in leading the Board to approve the NATO AEW&C Programme Management Agency (NAPMA) 2022 budget while also recognizing the recent accomplishments of the Operational Airworthiness Authority (OAA) and Technical Airworthiness Authority (TAA), supported by the NAPMO Airworthiness Review Board (ARB), in achieving NATO Recognition as Airworthiness Authorities.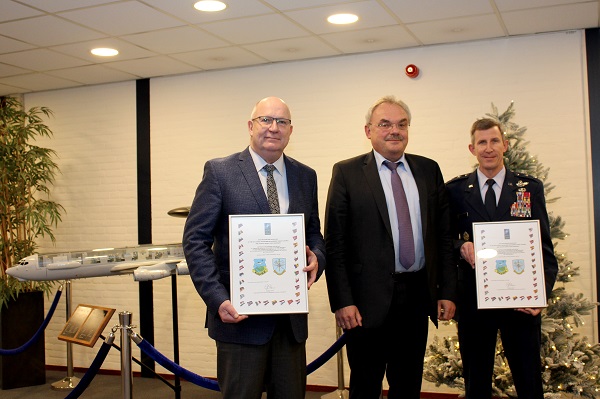 From left to right: Brig Gen Michael Gschossmann (NAPMA General Manager) - Dipl Ing Willi Bentzinger (Chair ARB) - Maj Gen Thomas Kunkel (NAEW&CF Force Commander) © 2021 - NATO


After an extensive review by a NATO Assessment Team comprising specialists from the USA, Canada, Turkey and Hungary, the TAA, Brig Gen Michael Gschossmann (NAPMA General Manager), and the OAA, Maj Gen Thomas Kunkel (NAEW&CF Force Commander), received confirmation in October 2021 that their programmes had successfully completed the NATO Recognition Process (NRP). NATO Recognition is required in order to comply with the NATO Airworthiness Policy and is intended to give SACEUR, and the NATO Allies, the reassurance that all aircraft operated on behalf of NATO are airworthy and it is applied equally to all NATO Allies, organisations and partners.
The culmination of the NRP, the NATO Recognition Certificate (NRC) of the NAPMA and the NAEW&C Force, was issued by the NATO Airworthiness Executive, Dr. Giorgio Cioni, and presented to the OAA and TAA by the chair of the ARB at BOD 106. Completion of the NRP is a huge achievement for both the NAEW&C Force and NAPMA, and is something that not all NATO Allies have yet felt able to accomplish. Receipt of the NRC is a significant milestone for NATO AWACS, and is recognition of the efforts of all the personnel that contribute to the airworthiness of the NE-3A fleet.